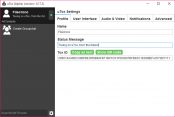 uTox is free software that does everything Skype does without occupying much space on your computer. It's lightweight with a minimalistic user interface but doesn't scrimp on functionality. It is an excellent alternative to Skype if preserving the performance of your device is essential to you.
Like Skype, you can use it for voice and video calls, messaging, sharing files, and creating group chats. You can add friends by getting their TOX ID, which can be found on your profile.
Built-In Encryption And Other Security Measures
A program created after the iCloud hack, which exposed private photos of celebrities, it was designed with your privacy in mind. You'll feel safe that a team of programmers is always working to protect your privacy within the program.
What's more? Every release of this app is signed by the PGP (Pretty Good Privacy) keys of at least two developers.
Absolutely No Installation is Needed
To start with uTox, open the app, and you're good to go. You can save and run it from your flash drive to use it for as long as there's a USB port.
Lightweight And Straightforward
Expect nothing less from uTox. It is just as reliable and functional as your favorite messaging software without all the fluff. And with its robust user privacy measures, you know you're safe when using it.