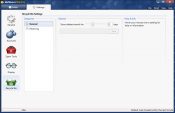 MailWasher recommends itself as an anti-spam solution. Accepting most of the general email servers now in use, this client brings some basic features under a modern UI, such as deleting unwanted emails before downloading them to the computer to check the sender preview the email content.
You can also block spam thanks to some special filters and the address recognizer. Accidentally deleted emails are easily restorable from the Recycle Bin.
In terms of speed, developers take pride in a download rate of 25 messages per second.
As for the way it notifies you, one gets to choose between the sound and visual alerts.