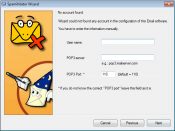 Spamihilator positions itself between your e-mail client and the internet for the purpose of examining all incoming messages and blocking spam. Running on several procedures that have proven their reliability in face of spam messages, this app has reached the highest recognition rate on the market. There are spams probabilities calculations taking place, a word filter making sure user-defined words and common expressions get detected, and some special filters doing their witchcraft such as Link, DSS and Rule filter.
In terms of compatibility, this software works alongside every known e-mail client.
In case an e-mail is accidentally sent to the Recycle Bin, you can still restore and view it as if nothing has happened.
File name:
Spamihilator-win32-1.7.0.exe
MD5 checksum:
5026B025BFD7507B14FBC046645CCEAE
Supported OS
Windows 11 / Windows 10 / Windows 8 / Windows 7