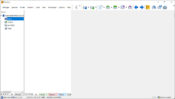 The Bat! Home Edition covers an e-mail client's basics, providing what most common users demand from such software. Anyway, it offers adequate protection against spam, handling encryption procedures while working with more than one e-mail server at once.
An HTML-based antivirus and data execution prevention make for the latest in e-mail security.
When multiple tasks are on schedule, this app comes in handy with category sorting and message templates. Another benefit is how it tackles accidentally deleted e-mails, always preventing data loss by message parking and backup & restore functionality.
An address book and synchronization feature complete the list for this client.