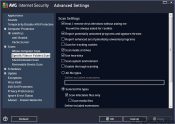 AVG Antivirus is one of the most popular free antivirus solutions on the market that offers you good protection against viruses and potential malware attacks, as well as advanced safety options.
If you wish to try out AVG Antivirus for free, you can use its free version. This version will provide you with basic antivirus protection.
But if you want to get more advanced functions of this antivirus, you can opt for the paid, premium option, which will unlock advanced and secure protection methods.
Easy to Use and Install
First, you'll need to install the AVG Antivirus on your computer. You can choose between standard or custom modes. This installation should be a piece of cake because it only requires you to launch the installer and get going.
Once you've installed the antivirus, you'll see that you can control the various modes that work with this program in the main window. For instance, if you opt for the basic version, you can only use the file protection system.
But some more advanced protection schemes will keep you safe from attackers.
Computer, Web, and Email Protection
Computer protection is the most basic protection level available inside this antivirus. With this mode, you'll protect your files and detect any potentially dangerous or harmful files that might have infiltrated your system. The antivirus will detect them and delete them at your command.
What is more, the program also has some advanced safety features. It will protect you as you browse the internet, make sure your passwords are safe and protected, and your privacy online.
In terms of email protection, it will make sure you don't get any harmful spam emails that might contain sensitive data or files.
Conclusion
AVG Antivirus is one of the most popular antiviruses on the market, and for a good reason. It offers different protection modes that will keep you safe from attackers effectively.