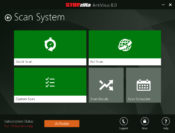 In need of any antivirus? This antivirus can help you keep your computer and other devices protected from the viruses, trojans, and malware.
STOPzilla AntiVirus has a dashboard that explains the various statistics about the security condition of your device. Although this application's interface is easy to handle in case of any difficulties, technical support provided by the application can be beneficial.
Through this antivirus, you can expect real-time protection for your computer. You can combat viruses before they get over your device fully. You can even specify a particular location that you want this application to protect for you. Five different types of scanning options are available with STOPzilla AntiVirus, which manage your computer's protection and detection of threats at various levels.
You can even tune your computer to be scanned on particular days or after precise intervals using this application. You can expect to see notifications for the virus detection and enable gaming mode (that disables scheduled scans).
Additionally, STOPzilla AntiVirus can update the definition of the virus on its own. So, you don't have to worry about the new viruses. You can even get information about each of the notified threat. Options like ignoring the danger and deleting the files are also available in the same window to provide you with greater ease.
Additionally, changing the settings for the scan depending upon your needs is also possible. If you use your email applications often, you can quickly scan them before the viruses can enter your computer through any of the incoming emails.
STOPzilla AntiVirus is a virus detector that can help you keep your computer safe from viruses and malware.