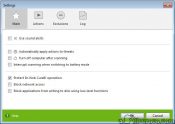 With Dr.WEB CureIt!, you'll be able to quickly remove malware and potentially threaten programs from your computer. It's a fully portable tool that you can deploy on any computer of your choice quickly, and it's also surprisingly powerful, considering how lightweight and portable it is.
It's designed to help you perform scans for viruses, adware, spyware, rootkits, and other harms.
Portable Tool
One of the nicest things about this malware removal program is that it is fully portable. You can put it on your flash drive and deploy it as needed.
It's compatible with most operating systems, so you should be able to use it regardless of your computer or operating system.
It has a simple and elegant interface where you'll be able to use the features almost instantly. It doesn't have a particularly visually pleasing interface, though.
But the great thing here is that it focuses on performance and usability instead of looks.
Scan and Remove Malware
The most important thing about the Dr.WEB CureIt! is that you can perform quick scans as you see fit. You can do that with the express mode, which will recognize and remove potential malware on your computer.
It will take a closer look at some of the most common places where malware gets infiltrated, such as the system registry.
You can then make your move as the user of the computer. You can delete the scanned objects or do whatever you want with them.
Depending on your preferences, you can create exclusions or remove threats to the quarantine. You can log the process and see how your computer's health is.
Conclusion
Dr.WEB CureIt! is a simple and lightweight yet powerful malware removal program that can benefit almost any user.
Dr.Web CureIt! features and benefits:
The software does not require installation and is compatible with all known anti-virus software. You do not need to disable your anti-virus software to check your system with Dr.Web CureIt!
You can test the efficiency of your anti-virus software and then decide whether Dr.Web is right for you
Unsurpassed self-defence mechanism and enhanced operation mode for neutralization of Windows blockers
The database is updated at least once an hour