Dr.Web CureIt! 19 March 2019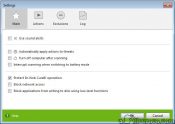 Dr.Web CureIt! is a new comer on the market, providing free and portable functionality for the removal of malicious software and files. It works without the need to install anything, so do not expect advanced options from it. After the deep scanning process of the hard disk, the memory, and the boot sectors completes, a full report is displayed, also indicating the successful or unsuccessful removal of infected files that have been detected.
With benefits in back checking the reliability of an already installed antivirus, in a fast, clean and stable manner, this security solution recommends itself as a use once app, best when dealing with the computer of a friend or family for the first time.
Dr.Web CureIt! features and benefits:
The software does not require installation and is compatible with all known anti-virus software. You do not need to disable your anti-virus software to check your system with Dr.Web CureIt!
You can test the efficiency of your anti-virus software and then decide whether Dr.Web is right for you
Unsurpassed self-defence mechanism and enhanced operation mode for neutralization of Windows blockers
The database is updated at least once an hour