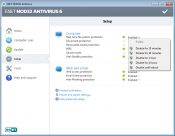 ESET NOD32 Antivirus is one of the world's leading and most popular antiviruses, as it will help you keep your data and privacy safe when you browse online and make sure that your files are safe and secure.
There is always a need to remain as safe as possible as a computer user. It should be one of your priorities if you use a computer daily, whether for work or entertainment. Now, you'll already get a decent level of safety if you use Windows Firewall, but to many users, that level of protection is not high enough.
If you're looking to improve your security, you can use ESET NOD32 Antivirus. Developed in 1987, this antivirus is one of the best and most popular antiviruses globally, as it has millions of users around the world and a good pedigree when it comes to reliability.
It will provide you with powerful security options and additional safety settings.
Top-Level Security
With ESET NOD32, you're getting the best there is currently on the marketplace. It pairs powerful security and safety solutions with an accessible, user-friendly interface that makes it easy for users to make their computers completely secure and keep their data safe.
There are two main levels of security settings when it comes to ESET NOD32: Internet protection and Computer protection. The real-time file protection that comes with the internet module is crucial for protecting your system if you download harmful files looking to exploit you.
On the other hand, the HIPS module will also detect the suspicious activity of already installed apps.
Get Notified About Dangers
The antivirus will keep scanning your computer constantly, but you can also start scans whenever you want. Whenever there is a potential threat to your computer's security, you'll be notified on your desktop so that you can act quickly.
Conclusion
To conclude, ESET NOD32 Antivirus is one of the world's best and most reliable antiviruses, with many powerful and effective features for keeping you and your computer safe.
ESET NOD32 Antivirus features and benefits:
Antivirus and Antispyware - Provides proactive protection against all online and offline threats, including viruses, worms, Trojans and other malware
Cloud-powered Scanning - Ensures a faster scanning process that uses our online file reputation database for whitelisting safe files
Scanning During File Downloads - Decreases scanning time by initiating scan during file download
Anti-Phishing - Prevents fake websites masquerading as trustworthy ones from acquiring your personal information
Removable Media Control - Allows you to block unknown CDs, DVDs, USBs and other media. Prevents unauthorized copying of your private data to external devices
Host-based Intrusion Prevention System (HIPS) - Acts as a firewall to your application and blocks unauthorized changes to programs