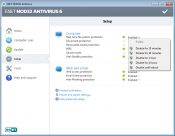 ESET NOD32 Antivirus is suited for all types of internet threats, delivering fast scanning, reliable detection, and high rate removal of infected files, thanks to cloud technology, at a price indeed, but with the possibility to try it free of charge for 30 days.
This cutting edge security solution delivers proactive scanning, anti-phishing, prevention against unauthorized copying of personal data on media devices. It also keeps the content of the social media wall safe and clean of unwanted news feeds or private messages containing dangerous links.
Daily updated new functions monitor the unfolding threats on the internet. Features vary from the decreasing of scanning time, selecting only those files known to cause problems, and the idle scanning on low PC resources to detailed customization capabilities that give the users the option to fine-tune the behavior of the antivirus.
ESET NOD32 Antivirus features and benefits:
Antivirus and Antispyware - Provides proactive protection against all online and offline threats, including viruses, worms, Trojans and other malware
Cloud-powered Scanning - Ensures a faster scanning process that uses our online file reputation database for whitelisting safe files
Scanning During File Downloads - Decreases scanning time by initiating scan during file download
Anti-Phishing - Prevents fake websites masquerading as trustworthy ones from acquiring your personal information
Removable Media Control - Allows you to block unknown CDs, DVDs, USBs and other media. Prevents unauthorized copying of your private data to external devices
Host-based Intrusion Prevention System (HIPS) - Acts as a firewall to your application and blocks unauthorized changes to programs