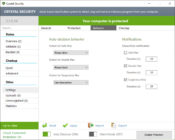 If you need cloud-based security for your computer, then this application can protect your computer against the malware and virus attacks. Moreover, creating backups for some of the applications is possible through Crystal Security.
Crystal Security does not require any installation onto the computer. It can work without it as it is based on cloud technology. The interface of the application is simple, which makes it easier for users to operate this application and ensure full safety.
The scan of your computer will be completed in minutes because of the efficient technology used by Crystal Security. You can modify the notification settings and the mode of scan that the application must employ. In case any malware is detected in your computer, it will be uploaded automatically to be included in the detection database of the cloud-based application.
Shell integration is another great feature. With this feature enabled, you only need to right-click the file onto the system, and it will result in the scanning of the file submitted.
Crystal Security is a cloud-based security application, which cam scans your computer and keep it virus free.