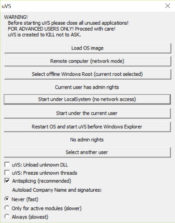 Scan your computer for viruses and malware components and remove them using the Universal Virus Sniffer.
This application doesn't need installation, and it's easy to use, allowing you to use simple and more complex scans to remove viruses from your computer and secure it.
Scans Your Computer for Viruses
The first and most important task for securing your computer is scanning it so you can find all the viruses easily. That's where this tool provides you with various scanning modes and tools.
You can start a quick automatic search or tailor the search and make it more complete if you wish.
If you want to search for files and viruses specifically, you'll be offered a chance to filter the results and find exactly the files you want to find. When the tool finds the file, you're looking for.
It will provide you with additional information about the file. You'll be able to learn its location, manufacturer, size, and other important information.
Remove Viruses and Protect Your Computer
With Universal Virus Sniffer, you can remove malware and other potentially harmful files from your computer. This way, you can remain safe and eliminate the risk of compromising your information to hackers and scammers who use this malware to exploit your computer and files.
Antivirus software has good capabilities for removing various types of files and malware. It will detect the most commonly used types of malware so that you can remove them before they can do damage.
Of course, you can also control the files you need to remove and choose which ones will be deleted.
Conclusion
Universal Virus Sniffer is a simple but effective antivirus. It's small and effective, as it helps you scan your computer and remove the most common threats from it.