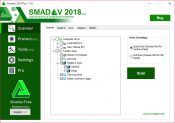 SmadAV is an antivirus program that will provide you with real-time security protection, which allows you to stay safe when you browse the internet, download files, and use your computer.
Having a strong antivirus is a must today. While the firewall can protect you to an extent, you'll not always be safe from various applications that you can download from the internet.
It is a good antivirus program that keeps your computer safe, although it's best used when you use it combined with other antivirus programs.
Additional Protection for Your PC
SmadAV Antivirus is a program made by an Indonesian company, and it advertises itself as a program that provides additional security to your computer.
This tool's main feature is providing you with a real-time protection system, which will scan the most important files that you download, preview them, and test their safety. That way, you'll be able to stay safe from the potential dangers of the net.
There are other features of this tool, but it perhaps doesn't have the many features that other, more complete antivirus systems have. It has a USB shield, which helps you keep your USB drives safe when you use them and make sure the files you copy from a USB drive will not be endangering you.
This app can also protect you by providing you with protection for your offline files, so you're able to scan these files and detect potential dangers on your computer. It is a nice feature to have.
GUI is Simple but Needs Improvement
This application is perhaps not the easiest one to work with. It has quite a dated GUI, which makes it seem like it's simple, although some problems still need to be addressed here.
Namely, the program's use can be improved by updating the GUI and making it even easier to use.
Conclusion
Overall, SmadAV is a simple antivirus program that can provide you with additional safety if you want so, although it doesn't provide you with a complete safety experience.