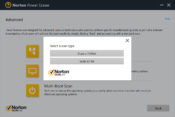 In case of any threats to your computer, you are probably looking for an application that cannot only block these threats but ensure that none of the malware can harm your computer. In that situation, one of the reliable applications is Norton Power Eraser.
It is the most straightforward application you can use to keep your computer safe. The application's main interface is easy to use, so it can help beginners in the IT field keep their computers secure without putting in much effort.
This application allows you to scan your computer and identify the threats in the system. It also provides the nature of the danger and the action you would want to take. So handling the threat situation can become quite easy.
Norton Power Eraser also allows you to create a restore point for your Windows. If your Windows system crashes, you can continue with a previous version, and you won't have to face any difficulties.
This restore point can also be important when you have removed additional files in search of malware. Logs for the deletion of files can also be accessed using this application.
A detailed scan of the system ensures that multiple Windows can be scanned. Configuring the settings of the entire program is also possible using this utility. However, all this process might create problems in properly working your CPU and RAM.
Norton Power Eraser is a solution for protecting your computer from viruses and threats.