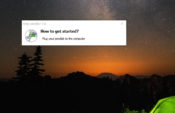 This application can ensure protection against the malware and virus attacks that can impact the USB. It helps in detecting and removing the threat creators so you can get a clean flash drive if you use this application.
Ninja Pendisk is available in the tray of your toolbar and automatically starts when you attach a USB drive to your computer. With the default settings, it has been designed to scan and remove all the malicious content from the USB drive on its own, so you can be sure that your drive is problem free. However, you can change the settings regarding the direct deletion of threats and viruses as well.
Apart from protecting the USB, it also protects your computer against the viruses that can be transferred from USB to your computer.  Usually, the process of scanning the USB drive is fast but the exact time is dependent on the amount of data stored in the USB drive.
Ninja Pendisk can keep your USB drive, your computer protected against the viruses and any malicious content that can harm your computer, and the information stored in it.