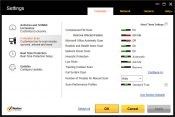 Norton AntiVirus enclosures the computer under five layers of protection working on SONAR technology, backed by live monitoring of possible threats in online and offline environment alike. The SONAR behavioral protection prevents the eventual infection of the computer, rather than fixing damaged files and putting them under quarantine. On the other hand, the Threat Removal Layer acts aggressively against hard detectable viruses, malware, and spyware already on the computer.
Browser protection and network defense are managed by other two layers acting upon a state of the art reputational data base, continuously strengthened to block the phishing of leaking passwords, credit card numbers, and to make the users aware of the dangers posed by links received on social media environments.
Furthermore, all features ale linked to cloud technology, thus assuring up-to-date virus definitions and improved vulnerability protection.
Norton AntiVirus features and benefits:
Shop, surf and visit social networks without worry

Norton Protection System - the 5 patented layers of protection detect and eliminate threats more quickly and accurately than other technologies

Browser Protection - proactively protects you by checking for and blocking online threats as your browser loads, to stop online threats before they can do damage

Free 24x7 Support - offers you expert help and answers by phone, live chat or online, whenever you need them

Vulnerability Protection - stops cybercriminals from using security holes (vulnerabilities) in applications to sneak threats onto your PC