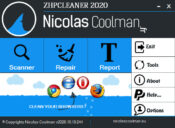 When you install new programs on your computer, you're sometimes asked to install new toolbars to your browsers that you don't even know exist and don't want to use.
These are unwanted toolbars that you want to get rid of. This adware can be very irritating, especially when they force you to see ads you don't want to see.
The solution is to use a tool like ZHPCleaner. It will help you clear your browser completely and remove the stuff you don't use, such as unwanted toolbars, adware that you don't like to see, hijackers, and other potentially harmful programs and apps installed in your browser that you want to remove.
Minimalistic and Effective
The great thing about this is that it's simple and minimalistic, but it gets many things done.
With the simplistic UI, you'll be able to achieve quite a lot, as it focuses on performance rather than looks. The main part of the interface is the three tools you can use – Scanner, Repair, and Report.
When you want to improve your browser, you can perform a scan. The scan will provide you with a complete summary of what it has found in the browser that can be improved or removed.
With the report tool, you'll be able to see the reports of the scans and act accordingly.
Clean Your Browser
Based on reports, you can start to take action yourself or ask the tool to do so. It will find all of the annoying adware you want to remove, but it will also remove any traces of unwanted components that have been bugging you for a while.
Conclusion
ZHPCleaner is a lightweight tool that helps you clear your browsers free of rubbish that you don't need, such as bookmarks that you don't use, toolbars, and unwanted programs that can harm your computer.