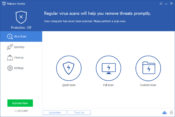 We are all open to threats online and in the digital world. Therefore, there is a need for a scanner that helps you identify these. As the name might indicate to you already,
Malware Hunter is a powerful platform that can change your PC experience from fear to confidence. You can know that you are protected from malicious code and viruses.
Scans with Speed and Customization
The scans are comprehensive. They look at all the kinds of infections that your computer could have.
The interface is relatively clean and helps you access the options in real-time. It lets you do custom scans to ensure you're getting the most out of it too.
Whitelist
You can allow or block certain sources. It means you have control over what is getting through in the first place before even scanning.
Shorten Scan Time
You can also trust or block certain sources. These are types of files rather than locations, per se.
Conclusion
The number of threats out there today is no joke. They can come from a variety of sources. If you have a PC, then you are vulnerable to them. That means you need a way to get ahead of the curve. With software like Malware Hunter, you will protect your PC and data.
That way, you can browse, play, and work peacefully. And that's why we think this is a software you should consider.