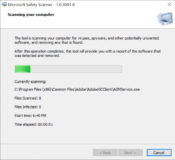 You can use the Microsoft Safety Scanner to detect potential computer threats. It is a standalone application that will perform regular scans on your computer to detect threats.
Scanning for threats constantly gives you a good chance of avoiding them or removing them as quickly as possible. Viruses, spyware, and malware are on the rise, and with the ever-increased presence of ransomware, you'd want to ensure they're not entering your computer.
To do that, you can perform regular scans using the Microsoft Safety Scanner. This tool will perform regular, automated scans on your computer so you can be sure that no viruses or malware enter your computer.
It will also help you remove any potential threats you might have before they can do substantial damage.
Automatic Scans
It works on an automatic basis. You will be able to configure some aspects of the scans, though. When you launch the application, it will provide you with a simple wizard to set everything up.
There are three types of scans: quick, manual, and full. The purpose of the quick scan is that you'll be able to perform scans as often as possible and as quickly as possible.
A full scan will perform a complete, detailed computer scan to detect potential threats. At the same time, the manual scan will let you configure some aspects of the scans and let you be in control.
Remove Threats
The scans will provide you with as much information as possible about the potential threats your computer is facing.
You'll get all the relevant information about the threats on your computer and additional guides on removing them.
No real-time protection is included, which might be a shame for some people, but you'll still get good value if you do regular scans.
Conclusion
Microsoft Safety Scanner is a highly effective solution for scanning your computer and getting information about threats on your computer and all the information connected to the threats.