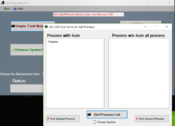 Do you often use USB drives and want to ensure they don't have any viruses? Then the USB Virus Remover is a great tool – it's a lightweight autorun application that will automatically scan your USB drives to locate any potentially harmful files.
If you use USB drives regularly, you might suffer from virus problems often. It is a problem when you have USB drives from unknown places and don't trust them. It's also important to ensure you're safe and without viruses, even when using your drives. One of the most common viruses is the Autorun virus.
The USB Virus Remover tool will automatically scan your USB drive to detect potentially harmful files like viruses and Trojan horses.
It will make you safe when you use USB drives that might have viruses on them, and it's a great tool to use when you want to ensure the USB drive you have doesn't have any such files.
Automatic Scan and Removal
Although this tool is simple, it has a console-like appearance that's quite complicated for some users. Even though it has some great functionalities, it is quite effective when used correctly. If you're someone who can't use consoles, then this tool is probably not for you.
When you run this tool, you'll have to set up automatic scans for the USB drives you enter. It will automatically look at your USB and make sure there are no viruses on your computer. All the actions you'll do with this tool will be displayed in the main window, making it easy for you to see them.
If you want, let the tool remove the viruses for you if it finds some. But you can also select it to allow you to delete the viruses yourself.
Conclusion
USB Virus Remover is a console-like application that will help detect and delete viruses from your USB drives.