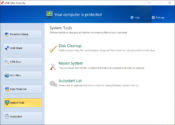 Keeping your storage safe is now easier with USB Disk Security, which will protect your computer's security and USB drive by disabling malicious software from getting onto your drive and your computer.
USB drives are still among the most common ways people transfer files and easily share files with others.
However, there is also a danger with using USB drives, especially when adding files that might include malware. That's when you don't know what you're putting onto your drive.
To manage and keep your USB drives as safe as possible, you can use USB Disk Security. With this application, you will protect your computer from potential malware on a USB drive. It will also protect your data by keeping spyware out and other possible programs and harmful files looking to exploit you.
Keep USB Storage Safe
The main purpose of this application is to constantly monitor your USB drives and the files you put onto the drive.
It features a powerful detection technique enabling you to spot and delete malware before it enters your computer. It is very important, especially if you use USB sticks often.
Get Notifications About Threats
Every time your application detects something that might be harmful to your computer, it will leave you a warning.
It will help you open your USB safely and help you see which files are causing the problems so that you can remove them easily. If there is any reason for the app to be concerned, it will label a file as "risky".
You can also scan your drive before you use it on your computer, which can be useful before making sure that you don't copy any of the files to your computer.
Conclusion
USB Disk Security is a smart app that you can use to detect malware on your USB drive and ensure better protection.