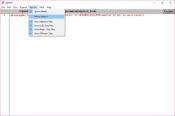 If comparing two files and documents is a challenge for you, then WinDiff is the solution. Through this application, you can get two files or folders of your choice compared very easily.
The best part is that WinDiff is very easy to use because of the simple interface. Additionally, file comparison is quite efficient. Although it is a handy tool for quick comparisons, there are a few issues with the features covered by this application.
Firstly, navigation of the files or folders is not possible. For every comparison, you have to select the files manually. So, if you have a bulk work for comparison purposes, this might require some extra time.
Secondly, you cannot mark specific files that you have compared or the ones you want to highlight in the comparison series. There are high chances that your files will get remixed, which can be frustrating.
Thirdly, the application interface is simple; however, it cannot be termed as very friendly for the users, especially for the new users.
If you want single files or folder comparisons in one go, you can use WinDiff very efficiently. However, the lack of proper features will enhance the time taken for the completion of your work for the bulk work.