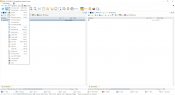 WinNc is a file manager with a suite of powerful features. It is double-sided, setting it apart from the rest. You can manage your files in an environment that puts user experience at the top of the list.
It has the same practicality, and transfer speeds users should expect. However, this version is more updated and ready for the modern user.
Layout
The first thing you will probably notice is the layout. There are two panels. These let you see the entire content of the folders at once. You can move files and keep track of the other side of the panel.
We found this to be a defining feature of the program that many of its competitors lack.
File Management Simplified
We are a fan of software that makes our lives easier. Luckily, WinNc seems to do just that. You can move, copy, rename, and delete files using your keyboard function keys.
Filtering and Settings
Other file managers didn't come with many options for filtering. However, there are numerous settings and filters that you can create and customize on WinNc, making it a far superior option.
Convenient UI
While it seems small, there is a popup window every time you do a copy task. For instance, if you use filters, you can focus on specific subfolders.
These will be created at a specific time and then relocated. You don't even need to look in the root directory. However, the filters' window can be disabled if you don't prefer this option.
More than a File Manager
WinNc does more than its name might suggest. It doesn't just move files.
It also helps you do a range of other useful features: encrypt, convert, decrypt, create ISOs, split, merge, and sync.
Color Coding
It's nice to have an application that makes your job easier. It color-codes your tabs and tasks so you can see what's active.
If you have something more urgent, you can always put the focus on that task and put the others to the side.
FTP Connections Supported
There are FTP connection support features included. You can send files over this protocol without issue. If you need to open archives, that is also a possibility.
You can't quite customize the workspace for this, but it's so fast that you won't have trouble figuring out the ropes sooner rather than later.
Wrap Up
In summary, WinNc seems to have the most popular features that you would expect in a file manager. At the same time, they don't do it in a way that hogs your PC's resources.
No matter what kind of task you have, it can probably handle it. It's about getting used to the dual panes and playing around with the settings so the software feels like second nature.
Because of its ease of use, we think it's a great file manager for amateurs and professionals.