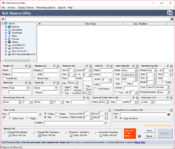 If you are tired of getting your files renamed for easier detection and management in your PC, then using application is a solution. It allows you to create different names for your files depending upon the flexible criteria. You can use dates or numbers, insert specific text and convert the case of your files using bulk rename utility.
By using Bulk Rename Utility you can rename multiple files within no time. Additionally, the file extensions can be removed for you, or the file format can be changed for many files through this application.
The process of renaming can be made easier by allowing you to have a preview of the files that are going to be renamed. You can even change the time stamps of the creation and modification of your files to help you in easier detection of the files that you want.
The best thing about this software is that it is free and readily available for use after the completion of the download.
Bulk Rename Utility can be a handy tool if renaming files and changing time stamps of creation and modifications are the functions that you are looking for in a tool.