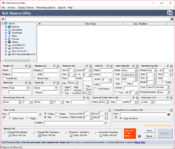 With Bulk Rename Utility, you can rename your files in batches, allowing you to rename multiple files simultaneously without changing the name of each file individually.
It is a simple and lightweight tool that says what it does: it's designed to help you quickly rename as many files as you want. You can rename your files in bulk and change their name without renaming each file individually.
It can be great when you work with many files on your computer.
Simple Interface
Bulk Rename Utility is designed to help you bring an easy way to rename your files quickly and easily. It eliminates unnecessary elements from the interface and focuses on bringing you the easiest way to use this tool possible.
It has a standard main window where all the features you can use with the tool are visible.
Custom Characters Supported
One of Bulk Rename Utility's best things is that it offers a great way to add custom characters when you rename your files. For creating your filenames, you can also see the filters for the characters you want to use.
This way, it will be easy to replace the characters in this tool with your desired ones.
You can also insert various prefixes and suffixes that can then be used to add to the batch renaming process. You can easily crop filenames, change the casing of your files, and copy and paste the characters of your file names.
At the same time, you'll be able to change the file extension and folder names, create exceptions and even rename hidden tools.
Conclusion
To conclude, Bulk Rename Utility does what its name says – it is designed to help you easily rename files in batches so that you don't have to rename each file individually.