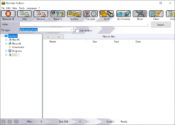 Are you looking for an advanced file manager? Then look no further than Alternate Archiver, an advanced file management tool that will let you archive, rename, shred, clean up, and synchronize files, get log details, and more.
File management requires constant action and advanced tools to help you get the job done. In that case, you can use a tool like Alternate Archiver, which can be used as a complete file management tool.
You can use it to archive and compress files, but you can also perform other actions such as bulk renaming, shredding files, cleaning up, and more.
Main Features Available in Main Window
It features a simple interface that might look outdated at first sight, but this design helps it become the easy-to-use tool it is. It's appropriate even for beginners, and it has everything you'd come to expect from a file management tool. But it also has some neat features you won't find anywhere else.
First, you'll locate the files you can then process with a few simple filters. You can filter them by format, which gives you a better way to find the files you want to see.
You'll also be able to see other key information about the files, such as name, size, type, date, and last dates of modifications.
Advanced File Management Tools
As the tool's name suggests, it's primarily made for archiving files. With this app, you'll be able to save space on your computer by compressing them into archives.
It has everything you'd want from an archiving tool, including support for various file formats and fast archival times. You can also arrange files, rename them in bulk, and sort them by size and date.
Other tools include changing date and time stamps, sending files via email, syncing content between the two platforms, establishing rules for sorting content, and more.
Conclusion
Alternate Archiver is an excellent tool to take your file management to another level.