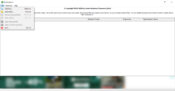 FileOptimizer is a free utility tool that will allow you to re-compress and optimize your files, enabling you to send them to others or use them yourself.
When it comes to files, sometimes you're using many files at once, which can take up many resources when sending them. And another problem here is that the files might not be of the same format, so sending and using them is not the easiest thing in the world.
With FileOptimizer, you'll be able to optimize these files so that you can easily use them or send them to others.
This tool supports various formats, including BMP, CHM, CHS, DOCM, DOCX, FITS, XFS, and others.
Re-Compress and Optimize Files
FileOptimizer is best used when you use it for re-compressing the files you have. This way, you'll be able to send files to other people, even the larger ones that are too large to be sent via email, for example. It will help you reduce the file size, making sending these files to other people easier.
Another important thing is that this tool will help you optimize your files. Doing this will shed the unnecessary parts of files away from them and make them as optimized as possible.
It can help you reduce the files' sizes greatly, which allows you to have more space for other files and send these existing files easier to other people.
Easy-to-Use User Interface
Virtually anyone can use FileOptimizer. The user interface is somewhat uncomplicated and simple to use. You can add as many files as you want to the tool to optimize them. You can do that by simply dragging and dropping these files into the interface, and you can add as many as you want there.
Then, once you upload the files inside the interface, you can decide what you do with them. You can click on Optimize all if you want to optimize all of them. But you can also do other things with them, such as easily re-compress them or transform them into different file formats.
For each file, you'll be able to see the important information about the file. You can see its original size, for example. But you can also see and change the metadata settings of each file.
You can see much other information here, but some might not be useful for everyone.
Conclusion
FileOptimizer is a great and user-friendly utility tool that helps you optimize your files, re-compress them, and use them easily so that you can send them to other people. You'll be able to save space and easily use these files for your means.