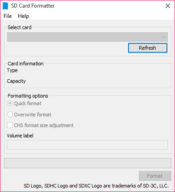 If you are looking for an application to help you format your SD cards, then this application can help you. You can also use it for formatting SDHC and SDXC memory cards.
SD Formatter is an easy-to-use application that does not require any level of expertise from the users. The simple interface explains it all and provides all the necessary information to get this application to work correctly without any issues.
You can view the size of the SD card connected with the device, the current memory used and available, and the choice of formatting available to you. You can choose quick and full formatting to format your SD card accordingly.
In full formatting, everything on your SD card will be formatted, whereas, in quick formatting, you can decide on some of the files that you want to be removed from your SD card.
Refreshing the SD Formatter can help get all the information regarding the SD card. You can even configure the settings for formatting your SD card through this application. You may choose to remove the existing files or go for the direct overwrite for the data.
You can even have access to more than once cards depending on the slots available on your device. Apart from that, no other options are available in SD Memory Card Formatter.
SD Formatter is a lightweight and easy-to-use application that can help you format your SD cards.