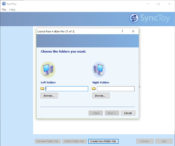 If your job is to get in touch with new files daily and getting them moved from one folder to other, then SyncToy can ease up the hassle that you can be facing through.
You don't have to face any problems in installing this application as it is handy to install and launch. However, for syncing the folders, you'll be required to identify the folders that you want to synch, and the application can automatically handle the later part of synching. Every time, you want to sync your folders, you'll have to enter the manually first before sync procedure can be carried out.
SyncToy provides different modes that can allow you to keep a control on the files to be synched and managing the duplication of files. You can choose the right setting depending on your needs to get the maximum benefit.
The possibility of including hidden files in the sync process is also available, which can ease the entire procedure if you have a lot of hidden files in your folders.
SyncToy creates ease in synchronization of the two folders of your computer.