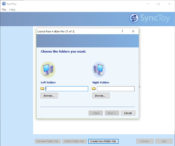 With SyncToy, you can synchronize your folders in several modes, apply filters, and have your content constantly updated on various devices simultaneously.
Synchronization is one of the best things you can do for your folders and files, especially if you use them on various devices.
If you're dealing with many moving files from one location to another and wasting your time, it's better to rely on syncing the files and simultaneously save space and time.
To do that, you can use a tool like SyncToy. It's a simple tool enabling you to sync your files and folders and constantly update them.
The app will sync on pairs of folders to keep the contents inside updated and ready for you if you switch to another device.
Save Space and Time
One of the best things about syncing files and folders is the ability to save you time. The main task inside is syncing a pair of folders, but the process is quite simple to manage, even if you're a beginner. First, you'll need to install the app on your computer, which is quick and painless.
But you'll be required to have .NET Framework and Microsoft Sync Bundle.
Then, you'll need to create a task to get started. You can do that first thing as you open up the app, and it will guide you through every step.
It's normally done on a pair of folders, so you can select two folders to get started. You can always modify the settings after the initial setup, too.
Various Sync Modes
You'll also be pleased to know that there are various sync modes and filters that you can use. There's the echo mode and the contribute mode, and you can use filters to organize your folders better.
Conclusion
SyncToy is a useful application to help you sync pairs of folders on various devices.