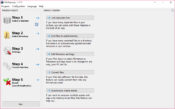 In this modern day and age, we all have a lot of media files on our computers. It is rare only to have a few text files or word documents. Instead, your PC is likely becoming slower by the day.
It is because, over time, those files start to grow, slow down the PC, and use up your RAM and memory.
So what can you do about it? It is an especially important question if you deal with a lot of video or audio files or work professionally with media.
An App for Media Management
As it turns out, MediaPurge is a reliable piece of software. It is a solution to this common problem of having a way to manage your files.
It can clean up your system so that your media files, such as audio and video, are not left with duplicates. One of the best parts is that it does this all essentially automatically.
Intuitive Interface
The interface is quite straightforward. It walks you step by step through the operation. You can decide which action you are going to pursue. You can easily copy your files, sort them, edit their names, and synchronize your media.
It all depends on your specific needs, of course. However, we found that they made it very simple to implement.
Get Rid of Duplicates
Having duplicate media files like audio and video is a pain. Plus, these file types take up more room than anything else. For that reason, you need software that makes life easier. It can give you several unique functions.
When you choose one, it will give you a step into the wizard. For instance, the comparison function will start with little difficulty once you decide on it. We found this to be a nice feature during our reviews.
Sort Files and Synchronize Media
Frequently, you have a lot of files and no way to sort them. This app takes care of that problem. It helps you get the most out of your application so that you aren't running around trying to figure everything out in slow motion.
You can use this function to create an inventory. It will analyze the contents of the media and organize it for you. Once it is up and running, you are almost ready to have it be a one-stop solution.
Summarizing
When looking at MediaPurge, we were surprised by how lightweight and easy to use it was. We didn't encounter many issues with getting it up and running. Instead, the methods were all fairly straightforward. It is refreshing, especially considering that many programs make it complicated.
It's no wonder so many people are talking about this app. We would certainly recommend it to someone looking to change things up.