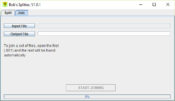 BOB's File Splitter is a file splitter to make the file size manageable on your computer. The best part of this tool is that you don't need to install the software before getting it to work.
Additionally, BOB's File Splitter is quite fast compared to the other options for splitting the files on your computer. Thus, this tool can be easily relied upon for splitting the files. The output size can be customized, or you can use the 4.7 GB DVD and 700 MB CD presets.
The interface of the application is not fancy. However, it is simple and easy to use. A single application window makes it possible to perform the desired function.
You cannot only split the files with this application, but it also allows you to join the split files. So, you can perform both the splitting and merging of the files.
You can use BOB's File Splitter, a simple but useful tool for splitting and joining files.