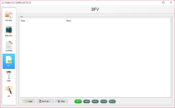 FileBot is an automation tool that will help you batch-rename files, analyze your hard drive and its contents, get subtitles, create lists and SFV files, and much more.
File management should be one of the priorities of users with many computer files. That will inevitably happen to you, too, if you have a large library of movies and songs you prefer to keep on your drive. It would help if you took care of these files now and then and kept them as organized as possible.
To help you with that task, you can use FileBot. It is an automation tool that will help you organize your files through various tasks, making your life much easier.
With it, you can batch-rename files on your drive, analyze your hard drive and see where it could be improved, get subtitles for files, and much more.
Simple and Elegant
First, FileBot is a great app because it has an elegant interface that will make it easy to make the changes you want.
It has a simple and elegant interface that makes it easy for beginners to organize their files. And if you have used similar apps in the past, you should have no problems using this one, too.
Batch Renaming and More
One of the main features of this application is the ability to rename the files in batches. You'll first need to provide the files on your computer that you want to change, and the app will automatically match the files with the data you've fed to it through the interface, saving you a lot of time and making your job much easier.
You can drag and drop files into the interface to rename them easily. You can click "New Names" to select the desired names for your files.
There are also several additional functions and features, such as getting subtitles.
Conclusion
FileBot is an excellent tool for renaming files in batches and easily organizing them.