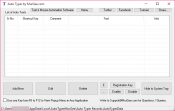 If you work with text and information for most of your day, then you probably need to enter long strings of text constantly. And that can be stressful, especially if you have to type every time and enter the repetitive text and could be automated.
And there's a good solution for this problem – it's called Auto Typer.
Auto Typer is an application that helps you automate your text entry by assigning hotkeys to strings and text snippets. It's a lightweight tool where you can adjust and set custom keyboard shortcuts that will help you insert custom text snippets or strings.
Intuitive Interface Allows Easy Use
The interface of the app is pretty simple, which makes it very easy to use. That's great for beginners who want to jump right in and get started and get more productivity right away.
While it might seem somewhat outdated, you will find it rewarding in the long-term when you want to create more and more hotkeys.
You can create as many hotkeys as you wish. There are also many customization options for every hotkey on the list. And if you also need to use it quickly, you can access it quickly by using keys from F6 to F12.
Automate Your Typing
If you think you're spending too much of your time typing and not enough time doing other important stuff, then you need to consider an app like this.
It will help you automate some of the most common strings you tend to use repetitively, which will save you lots of time and give you more time to focus on other tasks and be more productive.
The app allows you to use clipboard text when you select a hotkey, and you can also set a time delay for the typing. It helps you achieve great results when typing.
Conclusion
Auto Typer is a typing automation application that helps you automate your typing and make it easier for you to deal with repetitive typing. It helps you automate text entry capabilities by offering you hotkey customization that will help you insert user-defined text snippets and texts.