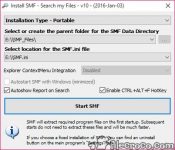 Let's face it. The Windows search feature is quite limited. It does not have all the necessary features to conduct thorough searches through huge files. It does not have filters. Therefore, if you need to search through the contents on your hard drive and filter the results, you must resort to a third-party program.
One such program, and one we are very happy with, is SMF (short for Search My Files).
What does this program do? What can you use it for? Well, let's see. The program can be installed on your hard drive or used directly from a USB flash drive ' it is portable. You can take it with you anywhere you need to conduct complex searches.
You can select specific locations where to search for files and apply a wide variety of filters quickly and effortlessly. For example, you can search by file name, size, type, path, date created or modified, file attributes, file comments, etc. The portable version does not leave any traces in the Windows Registry.
The program can give you detailed information about things like drive label, file version, drive volume ID, shortcut (if any), file length, timestamp, etc. As long as you have a general idea of what you're looking for, you'll find it using this utility.
You can exclude hidden folders and system directories from the search. This tool is your best friend if you need to find duplicate files. It can quickly scan the specified folders or drives and display a list of duplicate entries.
You can then delete the duplicates to free up some disk space. The program can generate XML, CSV, or HTML reports if you want to save the search results and other information. You can see how many read-and-write operations were performed during the search.
You can do it from the program window if you need to erase files. You can even choose the method used to erase data. Also, you can choose from several search algorithms and encrypt files using passwords.
The results are displayed using an SQLite-based tool, which means you can filter and sort the data in any way you like quickly and effectively. The program can find items on large hard drives in seconds.
SMF (Search My Files) is way better than the default Windows search tool. It's also faster than UltraSearch and Snowbird (two of the most popular free file-searching programs). In most cases, the program can display more information about your files than its competitors.