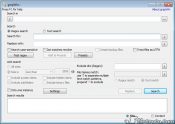 grepWin saves you valuable time by allowing its users to search and replace files according to given parameters. The power of this tool lies within the use of regular expressions for pattern matching.
For those of you who are new in this field, the program's developer offers a tutorial to help you with the task at hand. To further reduce the search time, features allow users to select the file types and file sizes.
Whenever you find it difficult to type in a regular expression, this tool comes in handy and saves the already used commands for further use.
All matching files are displayed in a list exactly as you find in Windows Explorer. Even the shell menu is similar to that from Windows.