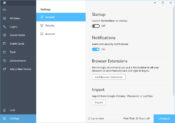 RememBear is an application to provide you with a secure way of remembering your passwords and other sensitive information across different platforms. Through it, you can save the details of your various accounts, including passwords.
All of this can be managed through a single interface, providing you with easy access and ease of management. Additionally, the saving of credit card information and filled form are some of the features that this application supports.
You can attach various devices with this utility. You need to specify a one-time-key for authentication. After that, the application will synchronize the password vaults and details across all your devices.
You must expect that the data will remain secure. It is an encrypted application, which also requires a master password to be remembered by the user to access this application. You can consider it safe to be used because whenever your computer centers in sleep mode, you need to enter the password again.
Similarly, if you have not used it for some time, RememBear will get locked also. So there are little risks involved in it.
RememBear is a comprehensive application to ease remembering passwords across multiple applications and multiple devices.