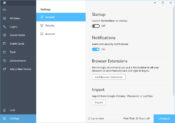 Can't remember your passwords? Then you can use RememBear, which is a neat application that will help you store all of your passwords and provide them to you when you forget them or when you need them.
Nowadays, almost every site on the internet is asking for a login. It means that you'll have to separately set passwords and usernames for many different sites you might be using, which means that you'll have many passes to remember.
And this can become problematic, especially if you have many accounts on various sites.
But with RememBear, you will be able to remember all of the passwords you have. It acts as a desktop client to enter and insert your login information of various sites, such as your username or password.
If you're worried about forgetting your password for any of your accounts, then you can use this app.
Secure Password Storing
In essence, this application will act as a password vault where you'll be able to store all of your passwords. In this single interface, you will be able to enter and secure all of your login information from various sites, including your passwords, usernames, credit card information, and all other relevant pieces of information.
The great thing about this tool is that it will also remember all the passwords and usernames you enter into Google Chrome and other services like 1Passwords or LastPass.
With this feature, you won't have to enter every password you have into this interface, and a lot of your work will be automated.
Sync Passwords
RememBear also allows you to sync passes over multiple devices with this app, making it easier for users to remember passwords without opening separate devices.
It is intuitive to use, and it's suitable for every type of user, including beginners.
Conclusion
RememBear is a great app to use to store your passwords and login information in one place, allowing you to remember them with ease.