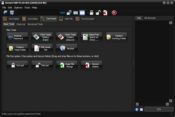 Secure Edit is a Notepad alternative that will bring all the necessary features inside Notepad. It will allow you to take notes and act as a text editor, along with additional features.
If you use Notepad often but are looking for an alternative that will bring you some additional security measures, then you can try SecureEdit.
This application is completely free to use and will do the same things Notepad tries to do. It has a user-friendly interface and additional functions like password protection and easy searching.
Simple to Use
One of the main things you need from such an application is ease of use, and the great thing about this app is that it has all of it. It has a simple interface that won't overwhelm you when you launch it. The main window comes with a text editor where you'll enter the text that you can then edit.
You'll see that above the text you've entered, and you'll have access to the tools and features you'll find inside this app.
You can use the advanced options from the dropdown menu above, which will come with some neat additional settings that will probably suit the more advanced users a bit more.
Text Editing and Security Features
This application is a text editor, so it will come with all the features you'd expect from a text editor. You'll be able to edit and rewrite, delete, and enter new text whenever you want. A search function also allows you to easily find specific parts of the text you're looking for.
What is more, there are advanced settings that you can use here as well. For instance, you can set a password and encrypt the file you're working with. Then, you can also export the files to and from different formats, including ZIP or BMP.
You can also use other features, such as the deletion of text and more.
Conclusion
SecureEdit is a great alternative if you want something different than Notepad. Despite its name, it includes an editing tool, a hard disk cleaning, a file scanning tool, and a text editor.