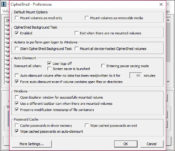 With CipherShed, you can encrypt the data and files on your drive, which will help you ensure that they won't come into the hands of someone you don't want them to.
File and data encryption is becoming increasingly popular for PC users. It's because many people share computers with others, but also because many are worried about security breaches that might come from other places. That's why more and more people are using encryption tools to help them secure their files and data.
One such application is CipherShed. With it, you will create encrypted containers that you can use to encrypt your files and data.
This encryption is strong and secure and can be used for various files, including financial documents, valuable pieces of information, sensitive data, and other things you want to secure.
Clean Interface
Inside the installation, you will have the option to choose from two different modes of installation: standard and portable.
No matter which option you choose, you can finish the installation without major problems.
Then, you'll enter the main interface, where you'll see that all the main functions are neatly collected so you can easily use them.
Create Encrypted Containers
The main function of this application is to help you create encrypted containers, where you will then be able to store the pieces of information and data that you want to protect. You can easily create a new volume, which will act as a container for all the new files you want to add.
There are several types of encryption that you can use with this app, including hash or other encryption methods.
It will depend on what type of encryption you need, but the choice should not be too complex for standard users.
Conclusion
CipherShed is a secure and advanced encryption tool that will help you store sensitive data and encrypt them so that nobody else can access them without your permission.