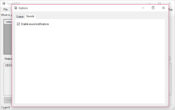 You can use Crypt It to keep your texts and other files safe from third-party's access. Apart from encryption, it can also be used for the decryption of encrypted files as well.
Crypt It has a friendly interface, which can make things easy to manage. Additionally, the application is not difficult to use, so anyone can use it readily without facing any major issues. Moreover, it works on updates automatically. You do not have to handle them manually. You do not have to face problems using it because of the outdated version.
Adding files for encryption or decryption is just a few clicks away. You must add files by selecting the folders you want to encrypt or decrypt.
There are some tools available in the application too. So, you can change a few settings according to your needs, which can help you better.
Crypt It can be useful if you have potential threats of getting your system or the message hacked while communicating. You can encrypt and decrypt the files and folders to view the messages.