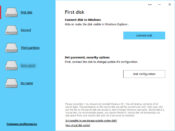 With Secret Disk, you can create "secret" drives only you can access. For instance, you can create virtual drives on your computer for sensitive files.
Moreover, you can protect them with a password and hide it so nobody else can access it.
Creating virtual disks is a great way to hide your files and apps, but also it enables you to use some applications and files that are only meant to be used with this type of drive.
But sometimes, you might feel that your virtual drives are too exposed, especially when using sensitive files.
Create and Protect Virtual Drives
Secret Disk gives you a way of creating a virtual drive with ease. You'll be able to make one from scratch quite quickly. You can do so in seconds and just a few clicks. You can set your drives to be hidden or visible, which you can always change later if you want to do that.
Then, you can set the security status of your virtual drive. For instance, you can set a PIN password for the virtual drive, which must always be used before anyone tries to access your drive.
It can be a great technique for saving your files and data that you don't want others to see, and it is highly effective.
Create Multiple Hidden Drives
If you go for the basic version of this tool, you'll only be able to create one drive, but you can also create several drives if you go for the licensed version.
Conclusion
Secret Disk is a great tool for creating hidden drives that you can protect with a PIN password.