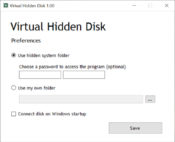 It is a utility offering a safe storage space where you can keep your personal or confidential business files. With Virtual Hidden Disk, you can create a separate folder on your computer that does not require encryption or cloud services to enable it.
You can keep this folder hidden until you need it, and no one else will be able to know about it.
You can even create a password for this separate folder to provide your secret files with even more protection.
Virtual Hidden Disk can create new fodder in seconds for you. You can add files to the folder and make it invisible. The process would take only a few seconds.
The separate folders you keep on your computer can work as a different disk, providing better safety.
In case of unexpected power interruption or situations when you have not hidden your secret folder, it will be done automatically, and you will not be able to see it whenever you'll log in to your computer again.
However, it is kept safe and can only be accessed by you through the secret password you set.
Virtual Hidden Disk is an application to keep your data safe and hidden on your PC. It creates separate disks for the folders that are intended to be hidden.