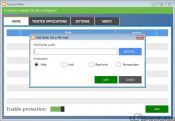 Secure Folders is an application for PC and USB drives aimed at protecting files and folders from unauthorised access. The application is extremely stealth and works in the background so it can not be discovered. The software can be installed simultaneously on the PC and the USB device, helping users to save time. This great application is suitable for all Windows versions and is able protect an unlimited number of files, regardless their size or type, by using custom passwords.
In order to uninstall the application, a password is required too, meaning only authorised users are able to perform this action. Secure Folders features great tools such as hot keys for opening applications, hiding and locking files and an integrated file explorer.
Besides this, it is also very easy to use thanks to its friendly interface. Another plus is the fact that this software does not impact the performance on your system.
Secure Folders features and benefits:
Password protection for application settings and uninstall
Windows Explorer context menu integration

Configure applications excluded from protection
Hot key to open application settings
Friendly user interface