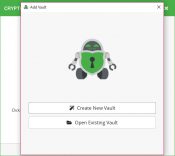 Cloud computing and storage have come leaps and bounds over the last few years, and it's arguably as safe as ever. However, it's always good to be more careful with sensitive files and documents rather than be sorry when it's too late.
And if you want to protect and secure your cloud files, you should look at Cryptomator.
It's a very useful and efficient application that will help you keep your cloud files even safer and secure by encrypting those files quickly.
It's a great way to protect your files from hackers and malware trying to steal files from the cloud.
Beginner-Friendly Encryption App
This application is appropriate even for the biggest beginners out there. Whether you use services such as Dropbox or Google Drive, you must know that those services work on a cloud-based system.
It is a user-friendly application that even beginners can use. That's mainly thanks to the intuitive interface that guides you through every encryption step.
To start, you can create a new vault, select its path, and then assign a password to the file, and you're done. You don't need an account or secure keys; you only need a password.
Keep Your Cloud Files Safe
Cryptomator uses the AES algorithm, one of the most well-known and effective algorithms that keeps your data safe, even against brute forcing and multiple tries to access your files.
Each file will be secured individually and used on various operating systems.
Conclusion
Cryptomator is a great application that will help you keep your cloud files safe from hackers and potential intruders by encrypting them with passwords.