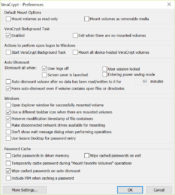 A disk encryption software that can provide you with protection against any third party is VeraCrypt. It cannot only encrypt your hard drive, but the other storage devices can also be encrypted through it.
You can even choose if you want to encrypt the entire hard drive or partition it for encryption.  Similarly, encryption of USB drive is also possible.
For setting up the encryption, you do not need to work manually; instead, the automatic encryption process can be initiated, which is real-time and transparent as well.
The hidden volume of the files and its hidden operating system makes your entire hard drive encrypted. So you can ensure that this applies to the unintended users that can reveal none of your data.
Additionally, you can also control the encryption process by pausing it or stopping it altogether. So, on the one hand, it is normal whereas, on the other hand, you can still control it.
Furthermore, you can change the language of the entire application too, so if you aren't comfortable with English, you can easily adjust the language according to your needs.
VeraCrypt is powerful software for the encryption of disk and USB drives.