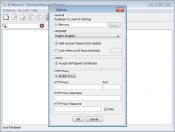 As the application's name suggests, Universal Password Manager will help you manage and store your passwords in one place, acting as a database for your passwords where you can store and encrypt them.
If you want to keep your login information in one place without having to open multiple sites or apps, then this utility is the right tool. It will enable you to store all your credentials, such as passwords and usernames, in one place.
It is a database for all your credentials so that you can access them anytime.
Simple Interface
One of the hallmarks of Universal Password Manager (UPM) is its simple and clear-cut interface. Initially, it doesn't seem too complex, as you'll create entries manually, which will then be stored inside the application's database. The main window only contains these entries and other buttons for storing passwords.
You can create as many entries as you want in this app. It is one of your advantages here, especially if you tend to have many passwords and worry about losing them.
Moreover, you can also sync them from URLs and your drive, which will make storing passes much easier.
Manage Passwords
You can add new entries with ease. All you need to do is enter all the relevant information about each entry, and then it will be saved inside the interface. You have to enter the username, the site URL you're keeping the credential for, the password, and some other pieces of information.
You can also access some other settings inside this tool, such as the ability to change the interface's language and other database management tools that you'll find inside the interface.
Universal Password Manager features and benefits:
Small and fast
Uses DES with 56 bit keys to encrypt the database
Written in Java

Great GUI
Fast Account searching
Streamlined for those who are more comfortable using the keyboard only