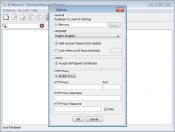 Universal Password Manager or UPM brings together all your sensitive data: from URLs and important notes or ideas to account names and obviously passwords. In this way, users become less stressed when it comes to remembering an overwhelming number of names and passwords. After the installation of this software, users are asked to create a master password and type in the sensitive data of their choice.
With synchronization capabilities and AES protection, you are sure to gain access to shielded data whenever you need.
A search function, some keyboard commands and a simple graphic interface offer the help one needs when complicated passwords stay between you and access to a specific account.
Universal Password Manager features and benefits:
Small and fast
Uses DES with 56 bit keys to encrypt the database
Written in Java

Great GUI
Fast Account searching
Streamlined for those who are more comfortable using the keyboard only