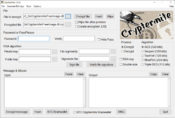 Cryptermite is a utility that allows you to encrypt your files. You can protect your text messages and other content that you want to keep private. It is important during encryption to have algorithms that are widely used and known to provide actual high levels of security.
Therefore, it uses Twofish, Blowfish, Serpent, and AES. These are NSA approved and will help encrypt just about anything.
How It Works
What it does is add the .cry extension to your output file. Otherwise, your output file will be impossible to decrypt or read. You would need the passphrase, which won't unlock. You can create an executable instead if you want.
The box will be dedicated where it is stored. You can then wipe it or do with it what you please. It will be wiped after you complete this task.
It essentially works the same as any text message. Just put the text in that you want to send someone. It will use these same algorithms to encrypt it. You might think it is harder than that, but it's not.
There will be a dedicated field, and then it adds some functions that automatically encrypt it.
Keys
Private or public keys, like RSA, are essential. Cryptermite does this all and signs them digitally.
It means that you need to key to unlock it. It will check the hash and then use special hash functions from right inside the main window.
This way, you know you're getting real encryption in real-time.
Real Encryption
Cryptermite has a good steganography module that helps you hide files inside different containers. You can even use image filename extensions.
A Secure messaging tool is built in that uses LAN. It provides everything you need to encrypt messages.
Then, you can even send these messages on the platform itself, making it a very useful tool for privacy.