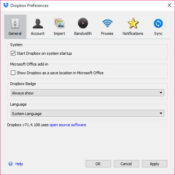 Dropbox is a cloud storing application and service which will allow you to keep your files on a cloud account and sync them with your computer's folders with ease using this intuitive application.
It is one of the biggest cloud services in the world. It's widely used for storing files such as images, videos, and working files. It allows you to access your files wherever you might be, which is great if you travel a lot and you need to have files ready without carrying drives with you.
All you need is an internet connection, and you're good to go.
Sync Files with Your PC
One of the main purposes of this PC application is to sync files with your computer and have them ready for cloud storage. You'll be able to drag and drop files into this application and store them on your cloud, which is a very easy and user-friendly way of handling file storage on the cloud with Dropbox.
First of all, you'll, of course, need to install this application on your system. The installation should not take too long, but you need to have your account ready before you can start using this application.
If you have an account already, you'll need to enter your username and password. If not, you'll need to create one before you can get started.
Share Content
Dropbox is often used for work for file sharing between colleagues, so if you use your computer to do your work, then this application might come in handy for you.
It has several features that make it a good choice for work, such as shareable content, templates for work, and additional timelines and deadlines that you can use with your work.
The good thing about having this app installed on your system is that you won't need to open your browser before sharing files, and you can do it already in the app.
Conclusion
Dropbox is a highly popular cloud service, and with this application for your computer, you'll make it even easier to use it.