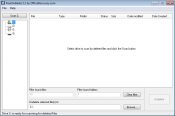 FreeUndelete helps you get files back if you've deleted them inadvertently or lost them in case something bad happens to your drive.
It can happen to anyone – you might delete your files that you don't want to delete; sometimes, it happens on its own, especially if a disk or drive breaks down.
If that happens, you'll want to use a good application to help you recover the lost files.
It is an app that focuses on bringing files that have been deleted back. It's highly effective for files of all types and will also work with various drives.
Its user-friendly interface and rigid scanning processes will allow you to bring back files that you might have lost but need in the future.
Recover Lost Files
To help you recover the files you've lost, FreeUndelete offers you an easy way of doing it. It will first scan the drive to help you locate the files that have been lost.
You need first to select the volume you want to search and set up the parameters for the search. After it's complete, you'll find a list of files that have been found.
It is a deep search where you'll find the files that have been hidden or that you couldn't find previously. In this list, you'll see the file's name, type, location, and other parameters that might help you locate the file you're looking for.
Retrieve Files with Ease
Once the scan is complete, you can select which files you want to bring back to the interface.
Select the files you want to recover, then select the procedure's output folder.
Then, the app will start the recovery process, after which the files should be located in the drive that you've selected for recovery.
Conclusion
FreeUndelete helps you recover files you might have lost, as it performs a deep scan on your computer to help you locate them and retrieve them completely.