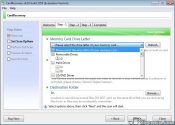 Card Recovery is a highly effective application for recovering files such as images or videos that you've lost on your memory card, which you might be using with your digital camera, phone, or computer.
Losing files of all types is never easy. But, whether you delete them accidentally or lose them for different reasons, you might want to be able to recover them despite that. Luckily, there are some great tools out there that can help you recover lost files.
This application is aimed to support you when it comes to recovering photos from memory cards.
It's useful for recovering lost, deleted, corrupted, or formatted photos and videos you might have lost or compromised. It supports different types of memory cards as well, making your job even easier.
Support for Various Memory Cards
One of the main positive aspects of Card Recovery is its widespread support for different types of memory cards. These include SD Cards, MicroSD, SDHC, CF, xD Picture Cards, Memory sticks, XQD Card, Flash Drives, and much more.
It means that working with different types of memory cards and files is possible with this tool.
Recovers Deleted or Lost Files
Of course, the main feature of this application will be the recovery of lost or deleted files from your memory card.
However, it will also work for movies and videos while also helping you recover photos from damaged, formatted, or otherwise compromised drives or cards.
The process of recovery is safe and completely transparent, and it's also highly effective. So there's a good chance that you'll be able to recover your images, even if you think that they might be lost for good.
It will perform read-only processes on your drives and cards, which means that it almost certainly can't damage the files or the drives themselves.
Conclusion
Card Recovery is a simple and effective tool for recovering images that you might have lost or deleted from your drives or cards, especially if these are images or videos that you might want to use in the future.