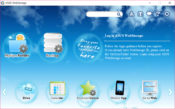 ASUS WebStorage is an application to help you keep your data secured. By using this application, you cannot only back up your data but can also recover your data with a single button.
It does not limit backing up the data from a few devices. It provides support to four browsers and seven operating systems. So, with such a wide range of support, you don't have to face any limitations while using this application.
A personal cloud control center makes managing the uploaded data and files more comfortable. Additionally, the security of data is enhanced because of this application feature. The backing up and recovery process is not very hectic or time-consuming, which can ease the entire user experience. Enabling password on the files also help in achieving the above-stated benefits.
Moreover, the app ensures the provision of the smart keyword search feature. So, finding files on Web storage becomes more manageable for users. Furthermore, previewing the stored files can also be ensured with ASUS WebStorage.
In case of weak connection speed, you don't have to start over the process of backing up from the start. This application facilitates the users by picking it up from where the backup stopped.
ASUS WebStorage provides you with some features to store your data safely online. Backing up, restoring, previewing the data files, and even sharing them is not difficult.