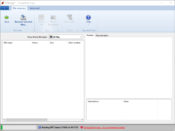 With DiskDigger, you can recover your data, erased files, and storage media that you thought were lost forever. If you deal with critical data, you have probably faced a problem like this: you accidentally deleted one of the most important data files and had no idea how to recover it.
When that happens, you can try out a tool like DiskDigger, which will help you recover your deleted files for days, weeks, and months after removing the original file.
Practical and Easy to Use
It is a robust tool that will help recover files you thought were lost forever. The recovery engine will crawl your partitions to dig deep and get what you want. It will take a few minutes (and up to an hour in some cases) to find the most coveted files you accidentally deleted.
The app is easy to use on its own. It would be even easier to use if there was a manual included. But it's already easy and intuitive thanks to the mainly uncomplicated interface of the application.
Support for Different File Formats
One of this app's distinctive and advanced features is its broad support for different file formats. It will work with NTFS, FAT, and exFAT drives and partitions to recover various file types.
You can recover several file formats, such as images, photos, documents, audio and video files, archives, CD images, and DLLs or .exe files.
Two Recovery Modes
The application will offer two scanning processes or recovery modes for recovering your files: the Dig Deep or the Dig Deeper.
The Dig Deep process will scan for deleted files that are still fairly recent and done relatively quickly. On the other hand, Dig Deeper is much more advanced and will take more time to complete.
It will look for traces of files, which can take you significantly longer, but it will recover files deleted days, weeks, or even months ago.
Intuitive File Organization
Once the files are recovered, you can see the files by file type. You'll be able to browse them in tabs. It ensures you're trying to recover the right file type before completing the recovery process.
You won't have to worry about the app slowing up your PC, though. The recovery will take anywhere between a few minutes to an hour, depending on your type of recovery.
It will take just a moderate amount of resources on your PC, which won't significantly slow it down.
Conclusion
DiskDigger is an application that will help recover files you might have accidentally deleted. It's an essential tool for people who work with important data constantly.
It will help you find recently deleted files and those that have been removed for some time.