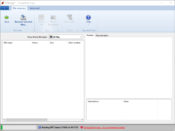 If you are looking to access some of the deleted files from any of your storage device, then this application can give you an excellent opportunity to do it. DiskDigger is a two-tier recovery application. It allows you to dig the storage device or dig deeper. Both these versions show the multi-tier digging options of the application.
The application allows you to apply filters including the file names and size to find the necessary file, which has already been deleted. Once you recover a file, you can sort them based on some specific filters provided to you as well. These filters include directory, name, size, and date. So, these features can be of great help for you if you want to find something and sort it after finding.
DiskDigger supports various types of files to be recovered. You can get documents, pictures, audio and video files too. Some of these file formats include JPG, BMP, ICO, ANI, TIFF, WAV, XML, HTML, etc.
The thumbnail feature it provides makes access to the lost files quite easy. You can recover the wanted files from it and discard the rest.
DiskDigger is a tool for finding the deleted files from the storage device, so if you have removed something mistakenly and wanted to recover it, then it is possible through this application.