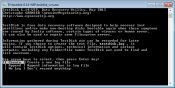 TestDisk is an effective and intuitive application designed to help you test your disk, undelete or check partitions, repair disks and perform other utility tasks on your drive.
Make sure that your drive is working as it should be one of your priorities if you're a computer owner. But sometimes, you might experience issues with your drive even if you pay close attention to what's happening to it.
That's when you might need to recover data or repair the drive, so you'll need a tool to do it.
That's where TestDisk comes into play. It's a utility application designed to help you check partitions of your disk, repair them, or bring them back if they've been deleted or damaged.
It's also highly effective for doing other tasks on your drive, as many o the tools inside are aimed to help you improve your disk and maintain it.
Data Recovery Made Easy
It will enable you to recover files and data that you might have lost due to damage to your disk or drive. This damage might happen because of different reasons, and it might cause you to lose sensitive data or files.
In that case, TestDisk can come to your assistance. The app supports different formats to help you with recovery, including FAT, NTFS, ext2, and exFAT.
Test and Check Your Drive
You'll be able to check your drive constantly and perform various tests on the drive. It has a command-line interface where you'll be able to start scans and tests for the drive.
It will also help you work with damaged partitions and other problems that might happen with drives.
You'll be able to find missing partitions and recover them (as much as possible, anyway).
Conclusion
TestDisk is helpful when you want to test your drive, scan it, and perform recovery tasks for getting your file and data back if necessary.