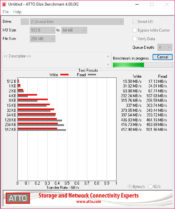 By using ATTO Disk Benchmark, you can improve the performance of your HDD while doing a series of tests which determine your hard disk speed. This tool is easy to use and can be configured fast. It won`t have a lot of features, and any user can easily use it.
It has a comprehensive help menu with details on every single function, and all of the goodies that are found in this tool can be configurated the way you want in just a few moments.
You can pick yourself the drive you want to access and decide if you're going to use force write access and direct I/O. After you press the "Start" button, this tool starts working, and it stresses the hard-disk. That's why it is recommended to not work on your device until the process is done so you won`t add additional stress to it.
Once it has done working, this ATTO Disk Benchmark presents all of the results you are interested in a professional way directly on the main menu. You can read the graph and the statistics you are interested in. It also offers you the possibility to save your results for later and even print them. It supports transfer speeds from 512KB to 8MB.
It also allows the user to do continuous testing while the I/O option comes with multiple pre-defined settings. The generated report can be saved and printed straight within the application with a dedicated tool.
ATTO Disk Benchmark is a great way to test your HDD speed and thanks to the friendly interface it is straightforward to use tool.